Less is More-Minimal Design and Why it Makes the Biggest Impact
With an increased focus on "decluttering" our lives, people are often turning to minimal architectural designs to elicit the same feeling that "paring down" brings to us. The popularity of shows, books, and social media accounts that highlight elements of minimalism demonstrates our need to prioritize a contemporary, sleek design aesthetic that calms and delights us all at the same time.
Metro Steel Windows and Doors  honor this clean, modern approach to provide our clients with an elegant option that unites all of the elements of their space harmoniously. There is a renewed public interest in minimal architecture. These styles can be traced back to 20th Century Cubism, the Zen aesthetic of calm order employed by the Japanese, or the functional simplicity of Scandinavian designs. Not only do these influences help to create a structural honesty that highlights the architecture, but a clean design also helps to create a clutter-free mind and life. So what are some of the elements that make designs like ours minimal?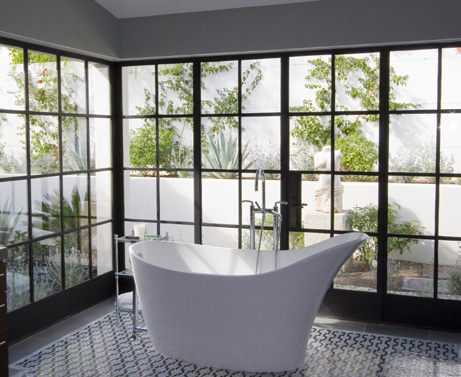 Stylistic Features of Minimal Design
Geometric shapes
Clean finishes
Few to no ornamental features
Efficient components and materials (steel, glass)
Repetition of shapes that create order and unite other elements of the architecture
Sleek lines and slender profiles
Use of negative space
Natural flow and order
When done well, minimal design is inviting and welcoming, rather than cold and sterile. The large, geometric shapes and clean finishes of our windows present a tasteful way to encourage a calm and tranquil atmosphere. If there's anything that we need in this fast-paced, multifaceted world right now, isn't it a sense of peace and tranquility?
Since 2006, our steel doors and windows have used modern manufacturing techniques that allow for excellent thermal performance while maintaining the visual essence of the steel designs that preceded them years before. Professionals in the restoration and contemporary architecture fields gravitate toward these compact sightlines and urban styles that tend to blend the modern and traditional, for a transitional aesthetic that really provokes that "Wow factor."
To find out how Metro Steel Windows and Doors can help you achieve this look, check out some of the products and services on our website, and contact us for a custom, high quality experience.