5 Must-Have Features of Modern Doors
Updating your home to give it modern style and design is simple when you have the right tools. Give your home's new style an immediate boost with the right contemporary door. Make sure it has these five must-have features and modern elements to set the tone: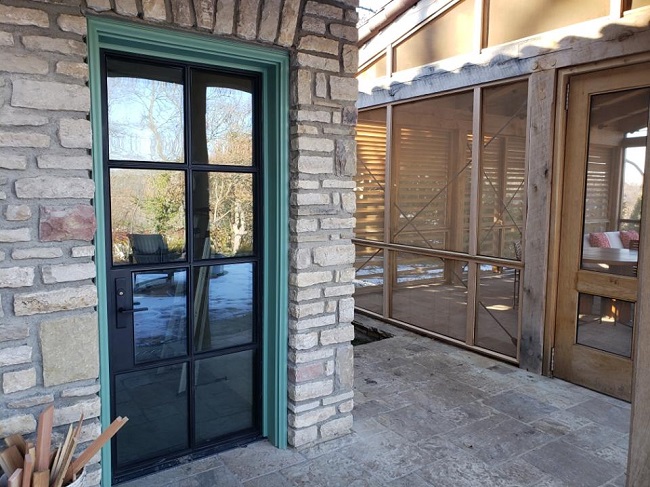 1. Steel material
Fiberglass and wooden doors don't fit contemporary chic. Keep your front door simple and strong by using steel. This material is also better for insulation and energy efficiency; there's nothing more modern than keeping an eye on your energy footprint.
2. Sidelights
Adding windows to the side of your front door brings in more sunlight and makes your door a stronger feature. Asymmetrical sidelights can give your door even more modern flourish, especially if you keep the lines simple and strong.
3. Frosted glass windows without ornate patterns
Steel doors are strong enough to support security glass that takes up almost the entirety of your front door so you don't have to opt for small paneled windows or a design just on the top half. Choose a frosted glass that will let the sunlight (but not any eyes) in.
4. A strong accent color
Make your front door pop. Cheery, primary colors stand out from your siding, stone, or brick without making the space look dark or cluttered. Look for a color that you can also bring into your home's design either through the kitchen cabinets or interior decorations.
5. Smart hardware and security
Nothing says 'modern' more than technology. Make your front door smart with these 5 must-have features, sensors, a camera doorbell, and other smart security features that can make your life easier. You can even add a smart lock that opens the door for you when your hands are full. Not only will this make your life easier, but the future homeowners will also appreciate the improvements.
Find the perfect steel door design for your remodel at Metro Steel Windows & Doors.